The Furlerboom
With the Furlerboom in-boom main sail furling system you can get a real mainsail: a fully battened mainsail with roach. Even "fat head" or gaff batten is possible to furl and reef, so there are no compromise in stability and performance. We have the size of Furlerboom to meet the exact demands for your yacht. Manually operated by an endless line to a powered winch at the cockpit or electrically driven by push-button.

Furlerbooms are fabricated by vacuum infusion in GRP composite in a one-piece construction and can be ordered in full carbon as well. The mandrel around which the main sail is furled is always in full carbon = high strength to low weight.

The laminate of the Furlerboom is calculated especially for each boat and varies in thickness and structure. As a result, a Furlerboom is always lighter in a weight to strength comparison to a furling boom made out of aluminum profiles. The build-in reinforcements are calculated to take specific loads such as mid-boom sheeting, kicker and preventer.

Furlerboom has a slim tapered design and is available in all colors from the RAL code. Carbon Furlerbooms can be ordered with a clear coat varnish.

The front-mounted line drive means a short loaded reefing line = less stretch and torque remains in the mandrel when sailing with a reefed main. The front-mounted line drive grips the continuous furling line giving a constant power ratio and prevent the mandrel from turning backwards when sailing reefed.

On FurlerBoom with a electrically driven mandrel* the unit is inside the mandrel at the mast end. As at the manual version, this limit torque to the mandrel only, makes the electric unit invisible and keep the additional weight at the right place: at the inboard end.

*The electric in-mandrel motor we install is made by Reckmann of Germany.
Carbon
If you have chosen a carbon Furlerboom you can get the boom painted in ant RAL color you like or make an add-on so the carbon Furlerboom appears in clear coat varnish to emphasize the beauty of the carbon fiber.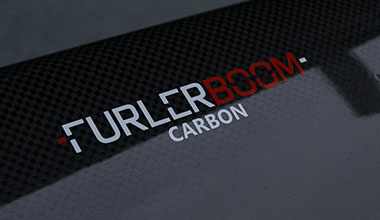 Carbon look
The Furlerboom is made of fiberglass with carbon fiber as the outermost layer. It's appears elegant as a clear coat varnish carbon boom.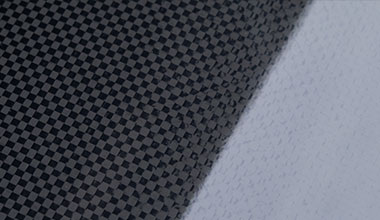 Color for your Furlerboom
You can choose any RAL color you like.
Why not combine the colors of your Furlerboom or a color and carbon with clear coat varnish?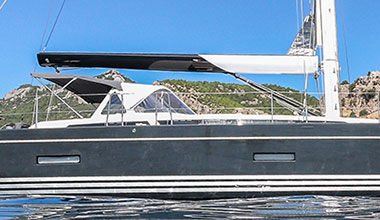 Refurbish your Furlerboom
Please don't discard your old Furlerboom too quickly.
For the last 20 years Furlerboom A/S has been producing a high quality boom, and having your older Furlerboom renovated can definitely pay off.